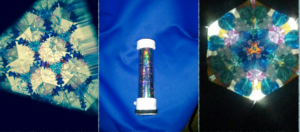 Announcing: A Kaleidoscope Workshop for Seniors
Celebrate the 200th Anniversary of the Invention of the Kaleidoscope in 1816

I've been making kaleidoscopes for over 30 years, and have been a member of the Brewster Kaleidoscope Society since 1986. I enjoy sharing information about scopes and helping people make their own; either in stained glass or decorated PVC pipe.
In my workshops, people of all ages, 5-92 so far have learned something new and fascinating about an old "toy" and made something beautiful to share with others and enjoy themselves – a unique kaleidoscope!
The following workshop options can be modified to meet individual and/or group needs.

One-Hour Workshops
Kaleidoscope Presentation
Enjoy various kaleidoscopes from my personal collection
Learn about the history of the kaleidoscope, its various types, uses, new designs, how its invention led to others that affect our lives today, and more
(Keynote/Power Point)
Kaleidoscope Project: Make a kaleidoscope, materials provided
Receive personal instruction and support while constructing a scope
(hands-on activity)
Share the joyful experience of looking through a kaleidoscope of one's own design!
Prices vary from 4-8 participants
Two-Hour Workshops
Kaleidoscope Presentation and Project, as outlined above